Hardwood Flooring vs. Laminate Flooring
Hardwood, as well as its laminate alternative, are both recommended for their charm, beauty, and durability. Hardwood floors come in a wide range of styles, with each plank ground from a single piece of timber, giving it a unique, natural look. Hardwood can be repaired more easily than laminate floors, and lasts an incredibly long time, sometimes 30 years or more. Additionally, because hardwood can be sanded, it has the potential to be revitalized numerous times, and it will add significantly to your home's value. However, hardwood floors cost more than laminate floors and do not fair well in moist conditions. Further, they require periodic maintenance to keep their shine and quality. The average price of installed hardwood runs between $8 and$15 a square foot.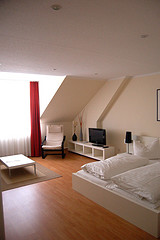 Laminate flooring is a high-quality alternative to hardwood. It has a photographic layer that mimics the look of wood, and has a clear, melamine resin protective surface. The inner core is made from a wood/fiber composite, and though its life-span is typically only about 20 years, there are many advantages to it. The protective surface of laminate floors keeps it waterproof, scratch-resistant, stain-resistant, and easy to clean. What's more, laminate floors never need waxing or polishing. Additionally, it's relatively inexpensive, and ideal for kitchens, bathrooms, and other high-traffic areas that are exposed to moisture. Furthermore, laminate flooring does not turn yellow or fade from sunlight or other elements like hardwood can. In sunny cities like Glendale, this can be a major factor to consider, as it can add to hardwood floor maintenance costs.
Depending on how realistic the photographic layer looks, the price will increase. The higher-end laminate can run between $6 and $10 dollars a square foot if it's professionally installed, and a more inexpensive style will typically cost $4-$8 to install per square foot. Other factors that affect the price of laminate flooring include the strength of the locking mechanism and the level of moisture resistance. Laminate flooring can either click together with special locking systems or glued together with a special adhesive. The glued-together style is more waterproof but harder to remove or replace.
The richness of natural hardwood flooring can add distinctive charm to any room, and will considerably increase your home's value. With proper care and preservation, hardwood flooring can last more than a lifetime. On the other hand, laminate flooring can be a convincing, inexpensive replica of hardwood floors that may better suit your budget.
If you still are not sure what kind of floor is best for your home, contact
Customer flooring -Choosing flooring
Flooring and cladding works are not the sort of work that can be done alone , unless it is very small surfaces and places that are not complicated and are not sensitive to moisture . Works flooring or cladding is nearly always carried on large surfaces , require transport and handling tonnage of materials ( tiles , sand , concrete, debris , etc.) , and in many cases require careful preparations of the surfaces ( removing coverings old , smoothing, sealing, insulation , etc.). Flooring or cladding require sequence quality trained and experienced professional who can overcome all difficulties and special cases and turn out a smooth surface , high quality and aesthetic .
Even selecting tiles unparalleled importance – many buyers tend to accept the recommendations of the developer or the builder as they are and do not notice it that suggested they produce a quality that is not cheap enough. Many times, plus a small price you can get much higher quality of flooring and cladding materials , qualities which make it big differences at the level of aesthetics and durability of the tiles over the years.
Flooring jobs – laying tile
Image not significantly different during renovations in the apartment there is : if the renovations are done through a contractor , all the above also applies in this case. Anyway, remodeling contractors are always committed to their customers or amines as quality construction contractors , especially as renovations are usually defined using Specification requires . Therefore advisable to further definitions
One – ambiguity of the work and quality of work , and not settle for any deviation therefrom if the contractor maintains There is no need to do " and held ' it."
If you are managing your own work , selecting the sequence and its supervision are your hands and your responsibility. How to choose a professional sequence can be trusted ?
"You know maybe a good run " ? Routine as it is, this is perhaps the most logical question , the simplest and most effective when we find a sequence of reliable and responsible . No learned through experience , and if anyone we knew already hired a good run and would recommend it to , then we have no particular reason to doubt his recommendation . You should of course find out and see what type of restoration work it has performed this sequence and how the end result looks like work . In addition, like any service provider , even sequence must be courteous, attentive, reliable , responsible, precise times and stands by its word . If not a " transmitter " you credibility and reliability , if we do not listening to you , or if careless and dirty appearance , look for someone else.