Commercial Services in Los Angeles, CA by EXCEL Construction LA, Inc.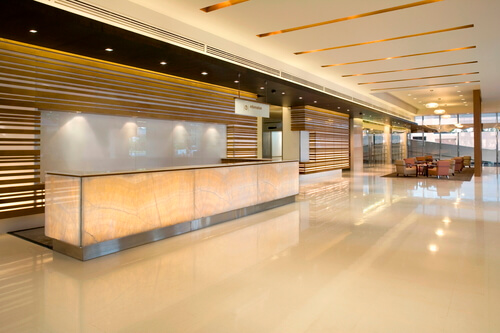 If you have a business in Los Angeles, CA, you know just how important it is to have your commercial property represent your business by looking attractive, well-maintained, and polished. The trained construction and renovation experts at EXCEL Construction LA, Inc. can make sure your commercial property has the curb appeal it needs as well as optimal function for your employees and clients alike with our comprehensive commercial services.
Our pros can help you with renovation, new construction, property expansion, and tenant improvements. Need to know you have reliable, licensed professionals for plumbing and electrical work? All you have to do is dial our number.
When you need construction or renovation services in Los Angeles, CA, call the company you can trust: EXCEL Construction LA, Inc..

Do You Need to Renovate Your Commercial Space?
There are a lot of reasons why you may need to renovate or update your commercial property: new tenants, outdated décor and layout, odd floor configurations — the list can be long. No matter the reason for your commercial renovation, the commercial construction experts from EXCEL Construction LA, Inc. are here to help with the job from start to finish. One benefit we offer that many companies do not is free estimating. It doesn't matter how big or small your job is. We will price it out so you don't suffer from sticker shock and will make sure your job is done on time and on budget.
Are You Ready to Start Construction on a New Commercial Building?
Building a new commercial space is an enormous undertaking, and you need to know that the people you hire to build your new space are competent, experienced professionals with proper licensing and liability coverage. Not only do get this when you work with the experts from EXCEL Construction LA, Inc., you get general contractors who will make sure your commercial project is built exactly as you want it to be and on budget. We don't handle just small parts of your commercial build, we do the whole thing, from excavation and foundations right to the plumbing and electrical systems. Our general contractors will make sure all permits are pulled and inspections performed. Our professionals cover all the bases so you don't have to.
Commercial Renovations
When you need to make renovations to your commercial property in Los Angeles, CA, you need to hire commercial experts. Commercial construction of any kind is a very different process from residential construction work, and hiring a company that doesn't specialize in commercial space as we do can be a risky move at best. Make your tenants and/or employees happy with expert commercial renovation services from A.G.A Construction, Inc..
New Commercial Construction
Is your business expanding and you need to have a bigger better space? Let us help you create the perfect new commercial space for your growing business! Our experts bring years of experience to every job so you can rest assured that your building will be constructed using the best practices, the highest standards, and top–quality materials. We also use only licensed, trained professionals, many of whom have been working with us for years.
Tenant Improvements
If you own a retail commercial space, you know better than most that every time you get a new tenant, the space will need improvements to accommodate for that new tenant. Our experts are only a phone call away and can handle all of your improvement needs, from creating an updated living space to building racks for clothes and other retail products.
Repair of offices
We know that you have just 5-7 seconds to decide if you stay here for another few minutes or you leave .
Even customers who come into the office you have exactly the same time to decide whether your office makes a positive impression on them or did you start meeting with them from opening much worse .
We are remodeling in Los Angeles do not believe that we are still remodeling company , to our office refurbishment this vision take place routinely and boring and make it to the office of dreams, exactly what our client dreaming about, without compromise.
Our customers enjoy the highest service experience , international standards , all services from planning the renovation to specify the last execution under one roof.
Repair of offices – every business and his dream …Group Renovations Los Angeles provides remodeling services offices in many businesses across the country, small and large businesses alike , refurbished offices is done uniquely for each ministry according to nature and its needs , according to the requirements and wishes of the customers , while of course support and counseling closely by our experienced staff to streamline maximum , both in terms of functionality and in terms of the renovated office aesthetics and overall design .Remove from yourself the hassles renovation …We understand that to conduct a business is not easy, step in to Project construction works It's also a challenge making sometimes impossible and usually comes at the expense of other things. As an important business focuses on what you understand the most, would you run your company at the highest level and do not hurt one bit rate and quality of work . We take care of everything for you. No need to coordinate between the plumber and the man plaster, sequence and electrician , building materials company , painter , carpenter and cleaning company . Your precious time and your harassment should be invested in your business , rather than chasing after the renovations had professionals .Daniel choice in Office renovation will ensure you that you are in good hands , project management , foresight leads to savings and reducing costs , implementation, supervision , real solution of the problems that arise are always renovating and cleaning to the smallest detail , everything will be deposited in the hands of our beliefs . It's not great team , experienced and caring makes the difference between us and others , those clients of our past and present , are documents of our greatest success .Renovation of offices, coordinated a meeting with us now by phone or contact form and a representative projects we have carried you , our services and give you a quote free of charge and without obligation .
Commercial Services
Customer Flooring
Ground Up Construction
Exterior Facelifts
Design-Build Services
Concrete Repair and Replacement
Special Projects
Design-Build Services
Concrete Repair and Replacement
Exterior Facelifts