Bathroom Remodeling in Los Angeles, CA by EXCEL Construction LA, Inc.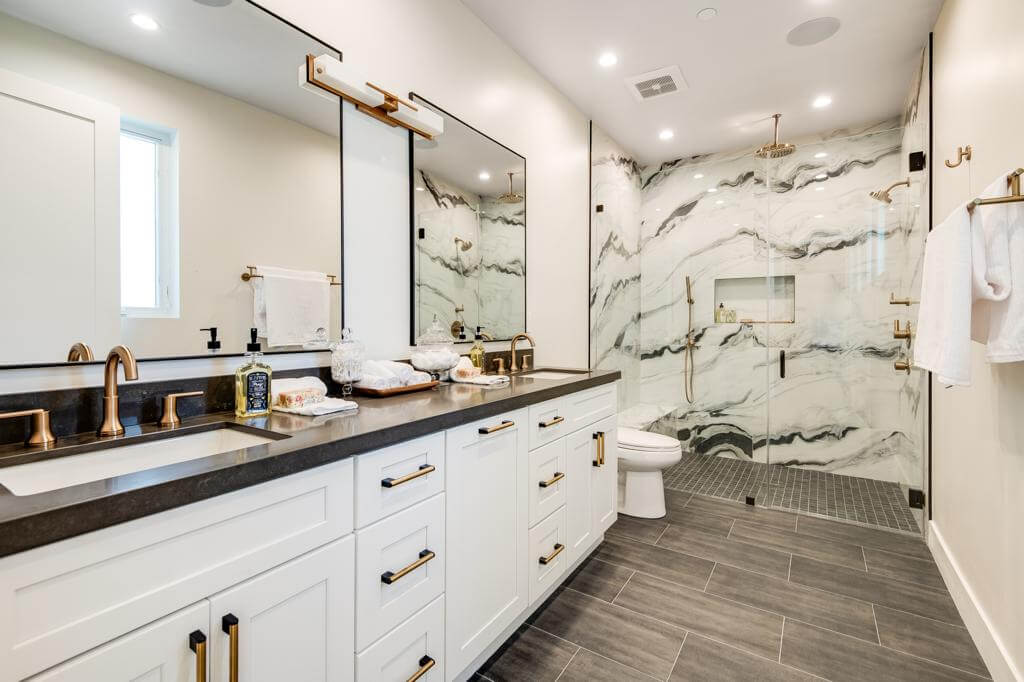 Is it time to update your home's bathroom? Do you want to make your bathroom into a home spa? We are the experts to call. Today's bathrooms aren't simple washrooms; they are an escape from the everyday, but they can become your biggest nightmare if they aren't properly constructed. This is where the construction, electrical, and plumbing pros from EXCEL Construction LA, Inc. come in. We have the expertise, years of experience, and professional staff to make sure that your new bathroom in Los Angeles, CA looks, feels, and operates just as you need it to. We can help you choose the right fixtures and flooring and make sure your new bathroom has the plumbing and electrical it needs to make it all work. Only want to replace your shower? No problem. No job is too big or small for our team.
Is it time to update your home's bathroom in Los Angeles, CA? Then it's time to call EXCEL Construction LA, Inc.!
With so many options and considerations, bathroom remodel has been the same challenging as fresh bathroom design. It's worthy of action if your bathroom is out-of-date, not function well, or you feel theres is no enough storage space in the bathroom. A good bathroom remodel could turn an ordinary bathroom into a relaxing retreat.
How to start a bathroom remodel project?
At Excel Construction LA we will help guide you in your design decisions. Materials, plumber, remodeler, or budget may be among the priorities of consideration., it's very important to have a study from others and come up with your remodel idea which tailored to your bathroom. In this post, I consolidated a collection of pictures of 55+ bathroom remodel ideas for your inspiration. Whatever a small tradition, or modern bathroom, you may find out inspiring ideas to improves the style and function of your bathroom.
Keep These 3 Factors in Mind in the Design Phase
You are ready to do it: you are going to have your bathroom updated. It is a lot of fun choosing the different fixtures, flooring, etc., that will be a part of your new bathroom, but before you break out the new loofa sponge, you and your EXCEL Construction LA, Inc. expert need to design a bathroom that works:
How many people are going to use the bathroom?

It is so intrinsic to have a bathroom that it can be easy to forget that it has to serve everyone in your home equally. As such, factoring in usage is a very important part of your new design.

Is the room currently large enough?

Do you need to increase the size of your new bathroom to accommodate your needs, design or fixtures? This is your opportunity to create the bathroom you want, and if you need a bigger one, now is the time to do it.

Is your bathroom in an ideal location?

Is one of the reasons you are renovating your bathroom because the location is not very good? Having an accessible bathroom is important to everyone in your home, but remember that moving plumbing will add more expense to your budget.
Benefits of Remodeling Your Bathroom
So why upgrade your bathroom? Here are a few reasons to consider:
Make your home a greener place

we aren't talking about décor here, we are talking about water conservation. If part of your bathroom renovation involves replacing fixtures, you can install low–flow toilets and shower heads to significantly reduce your overall water usage.

Better functionality

is your bathroom busier than a bus stop on a weekday morning, complete with jostling for space? Remodeling your bathroom gives you the opportunity to make the room much more functional for everyone.

Adds value to your home

an updated bath can add up to 20% more to your home's value.
Call EXCEL Construction LA, Inc. for Your Bathroom Remodel in Los Angeles, CA
With a bathroom remodel, there can be thousands of dollars on the line. Protect the investment into your home by making sure you are working with pros, like the ones at EXCEL Construction LA, Inc.. We have been helping customers in Los Angeles with all kinds of home construction projects, with a special focus on baths and kitchens. Call us today and see how we can help you!
Custom Bathroom Additions
Adding space to your bathroom may not be as extensive a project as adding a new bathroom, but it is still a construction project that requires the designing, planning and execution of trained professionals. The construction experts at EXCEL Construction LA, Inc. are those experts, and we are the ones to call when you need to expand your bathroom in Los Angeles.
Custom Bathroom Renovations
Is it time to update your outdated bathroom? Do you want to replace your existing bathroom fixtures with low–flow ones? Whatever your bathroom renovation needs, we are the people to call. Our pros can help you design and plan your new renovation, then make sure it is executed perfectly and on time.
Custom Bathroom Cabinets
Does your bathroom need custom cabinetry? Custom cabinets in a bathroom not only add style, they add much–needed storage space. Call us today and see how our experts can help you find and install the right bathroom cabinetry for your home in Los Angeles.